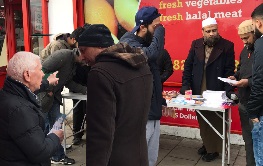 Yet another way of engaging with the wider community.
"Dawah in the Street Stall: Sharing the Beauty of Islam"
Islam is not just a religion, it's a way of life. And what better way to share this way of life with others than through a street stall dawah event? That's exactly what happened outside the Hockwell Ring post office where a dawah stall was set up to inform the community about Islam.
The stall was equipped with leaflets explaining the basic understanding of Islam, as well as free Qurans for people to take away and learn more about the religion. Additionally, there were booklets about the different pillars of Islam, giving people a deeper understanding of what the religion encompasses.
The dawah stall was not just about handing out literature, it was about creating a community. The volunteers at the stall were happy to answer any questions the public had and engage in meaningful conversations about the religion. They also provided information about upcoming events and programs for those interested in learning more about Islam.
This dawah event not only spread awareness about Islam, but it also helped break down stereotypes and misconceptions about the religion. People were able to see the beauty and compassion of Islam firsthand through the friendly and informative conversations they had at the stall.
Dawah in the street stall is just one of the many ways to bring the community together and share the beauty of Islam. It's a chance to educate and inform the public, while also fostering a sense of community and togetherness. So why not set up a dawah stall in your community today and share the message of Islam?