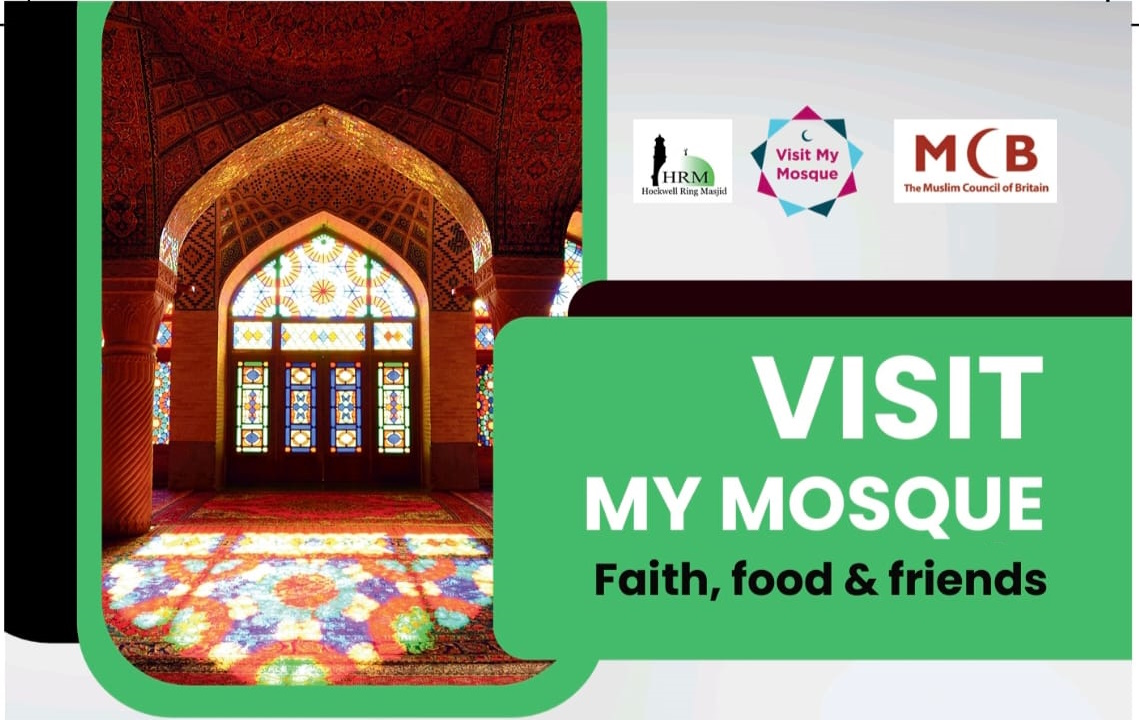 Join Us for an Exciting Event: "Visit My Mosque" at Hockwell Ring Masjid!
🗓️ Date: Saturday, 30th September 2023
⏰ Time: 12:00 pm – 4:00 pm
📍 Location: Hockwell Ring Masjid, 13-17 Barley Lane, Luton, LU4 9HT
🕌 **Discover the Beauty of Islam and Embrace Diversity**
We are delighted to invite you to our upcoming event, "Visit My Mosque," at Hockwell Ring Masjid. This national initiative, facilitated by the Muslim Council of Britain, encourages mosques across the UK to open their doors and welcome neighbours from all faiths and backgrounds.
✨ **What to Expect:**
👉 Explore the Mosque: Take a guided tour to discover the beauty and tranquillity of our mosque. Experience the peaceful atmosphere and learn about the significance of various architectural elements.
🗣️ Engage in Open Discussions: Our friendly community members will be ready to answer your questions, share their experiences, and engage in meaningful conversations about Islam, Muslim culture, and our mosque.
🍽️ Delicious Refreshments: Indulge in a variety of mouthwatering refreshments, offering a taste of the diverse culinary traditions within our community.
🧒 Kids Corner and Children's Activities: Bring your little ones along! We have planned exciting activities to keep them entertained and make their visit memorable.
🖼️ Exhibitions: Immerse yourself in the rich heritage of Islam through our exhibitions, including the Hajj and Zam Zam exhibition, Prophetic Medicine exhibition, and Miracle of Qur'an exhibition.
🌟 **Join us and Celebrate Unity in Diversity**
Our "Visit My Mosque" event is a wonderful opportunity to foster understanding, dispel misconceptions, and celebrate the diverse cultures and traditions that make our community vibrant.
Save the date and join us on Saturday, 30th September 2023, from 12:00 pm till 4:00 pm at Hockwell Ring Masjid, located at 13-17 Barley Lane, Luton, LU4 9HT.