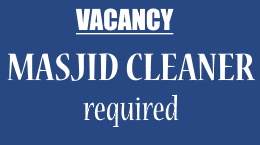 This job is re-advertised due to not receiving enough applications during the initial posting.
Hockwell Ring masjid is looking for a Part-time Cleaner to take care of our facilities and carry out cleaning and maintenance duties. The premises are used by worshippers five times a day, and there is an evening madrasah where children use the building and facilities on daily basis. The role involves keeping the building in clean and orderly condition.
This is a part-time, 10 hours a week position. The salary is £9.00 per hour and the timing can be arranged with mutual agreement.
Responsibilities
Cleaning, dusting, sweeping, vacuuming, and mopping all parts of the building and keeping it in a well-cleaned state.
Perform and document routine inspection and maintenance activities.
Notify management of occurring deficiencies or needs for repairs.
Make adjustments and minor repairs.
Stock and maintain supplies in wudu areas and toilets etc.
Cooperate with the rest of the staff
Follow all health and safety regulations
Requirements
Proven working experience as a Cleaner
Ability to handle cleaning equipment, hoovers, and other cleaning chemicals.
Knowledge of cleaning chemicals and supplies
Familiarity with Material Safety
If you are interested, please apply in writing to Chairman, Luton Islamic Community Forum, Hockwell Ring Masjid, Luton.
You can submit your application in person in the masjid or email your application to licf@hockwellringmasjid.org.uk no later than Friday 11th February  2022.