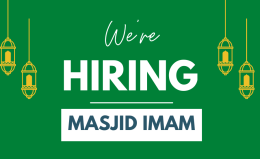 We are looking for a full-time Imam (37 hours per week), able to communicate with the diverse community residing in the vicinity of the Masjid. The primary duties will include leading the five daily Salah, delivering the Friday Khutba, managing the successful operation of the evening Madrasa and adult Islamic education classes, conducting Nikah and leading the funeral prayer.
This is a vital role at the Hockwell Ring Masjid. You must be a Sunni 'Alim with qualifications at the Degree level in Islamic Studies. You must possess patience, compassion, humility, good character, and a broad & mature understanding of Islam.
You will need to demonstrate how you will motivate the diverse community who attend the Masjid and lead the community to participate fully in society. You will also be actively involved in interfaith Dawah & community activities to help establish the following programs:
Inviting people to the path of Allah and to help better understand Islam.
Organise Muslims to work collectively in the spirit of brotherhood & unity.
Help provide education and training to bring people closer to Allah as well as equip people with knowledge and skills to serve the community better.
Build a peaceful and cohesive community by working for the common good and addressing social ills.
Working for fairness, justice and human dignity irrespective of race, religion and colour.
Furthermore, you will need to comply with the current and future policies of the Hockwell Ring Masjid; this will include:
Child Protection Policy
Masjid and Madrasa Policy
Health & Safety Policy
Government legislation around extremism in a place of worship setting.
 E = Essential         D= Desirable
Skill
Must be able to communicate in English (E), Arabic (E), Bangla and Urdu (D).
Ability to deliver Dars-e-Quran. (D)
Good written and oral communication skills with experience in tasks such as Khutba, lectures, and public speaking events, (E)
Knowledge
Excellent knowledge of Islamic Shari'ah (E)
Quran (to Tafsir level) (D)
Properly rehearsed in Fiqh (with good experience with contemporary issues that relate to present-day UK society) (D)
A good understanding of Christianity, Judaism and other major religions (D)
Educated to Degree level in Islamic Studies or Fazil equivalent (E)
Hafidh-ul-Quran (D)
Must be familiar with various schools of Fiqh and have an awareness of the heritage of different Muslim cultures and backgrounds (E)
Experience
Experience with delivering Da'wah to Non-Muslims (E)
Experience in dealing with first and second-generation Muslims E)
Only those who are eligible to work in the UK will be considered
Applications must be made via CV and covering letter emailed to: licf@hockwellringmasjid.org.uk
Closing date 30/12/2022